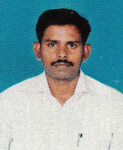 Dr. J. Jaya Prakash
Assistant Professor
---
Professional Info
Department
:
Microbiology
Qualification
:
M.Sc., PhD., DMLT.,
Area of Research
:
Microbiology
Academic Experience
:
3 Years
Publications
:
Saravanakumar A, Ramasamy N.M., Jayaprakash.J Hypo-lipidemic activity of sesbania grandiflora in triton wr- 1339 induced hyper-lipidemic rats (ISSN09750185).

International Journal of Phytomedicine-2 (2010)Richard Jayaraj , Sivananthappa K C, Jayaprakssh J., Effect of Agitation Rate on Growth Yield and Virulence of Bordetella pertussis Strain 509 in Lab Scale Cultivation. RES BIOSCIENTIA (ISSN 2230-9446 2011 ) I Vol. 2 I Issue 1 I 22-27

Production of rabies immunoglobulin using caprylic acid purification methods. St.Joseph's journal of science and humanities (2013) vol -1 pages 98-102 (ISSN: 2347-5331).

Arthanari Saravanakumara, Mani Ganesha, Jayabalan Jayaprakashb, Hyun Tae Janga, " Biosynthesis of silver nanoparticles using Cassia tora leaf extract and its antioxidant and antibacterial activities" Journal of Industrial and Engineering Chemistry Volume 28( 2015), Pages 277–281.(Impact factor 3.2).

Paper presented
:
'medicinal impotantence of dairy containing probiotics" presented at theDRDO sponcered NAtional seminor on impact of nanotechnology in pharmaceutical drug delivery organized by JJ college of pharmacy Maheshwaram, Anthra Pradesh-59(2012)

Jayaprakash .j and Sakthi " effect of Humic acid on micro algae biomass" presented at the DBT sponsored National seminor on Recent advances in biotechnology and applied microbiology organized by Kanchi shri Krishna college of arts and science.(2014)

Seminars/Conferences/Workshops – attended
:
National Seminar on "Bacteria for better health- Probiotics" organized by department of Microbiology, St.Joseph's college, Cuddalore, 09 June 2013.

National Seminar on "Biochemistry in health and environment" organized by department of Biochemistry, St.Joseph's college, Cuddalore, 09 March 2013.

National Workshop on "Instrumentation and characterization XRD and TEM" organized by department of Physics, St. Joseph's college, Cuddalore, 25 October 2014.

Continuing Medical Education on "Bloodstream infection – an update" organized by International Medical Science Academy and MGMC & RI, Puducherry , 28 March 2015.

National Seminar on "Metagenomics" organized by department of Microbiology, St.Joseph's college, Cuddalore, 27 July 2015.
---
Personal Info
| | | |
| --- | --- | --- |
| D.O.B | : | 06.06.1985 |
| Mobile | : | 9629392428 |
| Email | : | prakash.j68@gmail.com |
| Communication Address | : | Mutharasan kuppam, Sathipattu(post), Panruti(T.K), Cuddalore-1 |