Contact:

St. Joseph's College of Arts & Science (Autonomous),
Cuddalore - 1, TamilNadu.
Office Phone : 04142 - 286311, 286312, 286313,
Principal Fax: 04142 - 286314, 286316.
INTERNAL QUALITY ASSURANCE CELL (IQAC)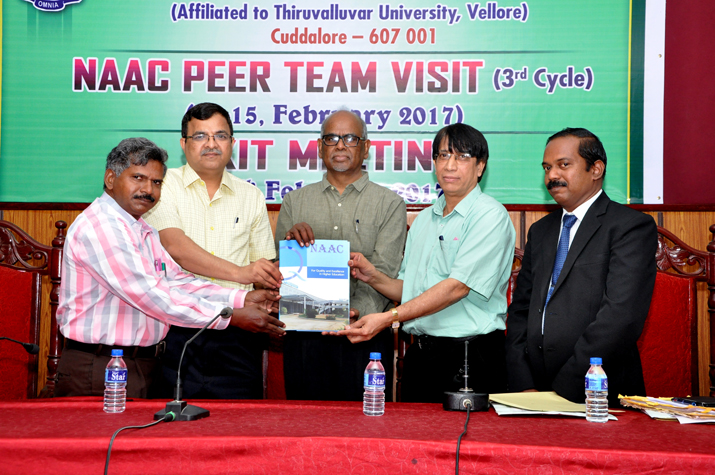 Internal Quality Assurance Cell (IQAC) The Internal Quality Assurance Cell (IQAC) has been created as per the requirement of NAAC in the year 2003 with an aim to develop a system for conscious, consistent and catalytic action to improve the academic and administrative performance of the institution. Some of the functions expected of the IQAC are as stipulated by the NAAC include: a) Development and application of quality benchmarks/parameters for the various academic and administrative activities of the institution b) Dissemination of information on the various quality parameters of higher education c) Organization of workshops, seminars on quality related themes and promotion of quality circles d) Documentation of the various programmes / activities leading to quality improvement e) Acting as a nodal agency of the institution for quality-related activities f) Preparation of the Annual Quality Assurance Report (AQAR) to be submitted to NAAC based on the quality parameters.
INTERNAL QUALITY ASSURANCE CELL MEMBERS
• Rev. Fr. G. Peter Rajendiram, Secretary (Management)
• Rev. Fr. Dr. S. Xavier, Controller of Examinations (Teachers)
• Rev. Fr. Dr. A. Alex, Dean of Studies (Teachers)
• Dr. M. Arumai Selvam, Principal – Chairperson
• Dr. J. Jon Arockiaraj, Vice-Principal (Teachers)
• Dr. P. James Mary, Shift II in-charge (Teachers)
• Dr. P. Marie Arockianathan, Department of Biochemistry (Teachers)
• Dr. S. Joseph Christian Daniel (Coordinator)
• Mrs. Mercy Anthony, Department of Statistics (Teachers)
• Mrs. X. Ann Lanka Jeyadharshini, Department of English (Teachers)
• Dr. T. Miranda Lakshmi, Department of Computer Science (Alumni)
• Dr. I. Benjamin Franklin, Department of Comp. Applications (Alumni)
• Mr. F. Paul Arokiadass, Department of Chemistry (Teachers)
• Dr. S. Sebastian, Department of Physics (Teachers)
• Prof. A. Karunanandan, Professor (Retd.), Vivekanada College, Chennai (Distinguished Educationists)
• Dr. R. Thilak Kumar, Periyar Arts College, Cuddalore (Local Society)
• Mr. P. Hari Narayanan, Strides Shasun, Cuddalore (Industry)
• Dr. M. Jeganmohan, Associate Professor, IIT Madras (Distinguished educationist)
• Dr. A. Arul Dass (Stakeholder / Parent)
• Mr. L. Antoniraj, Office Superintendent (Administrative Officer)
• Ms. A. Edwina Sherley Felicita – Ph.D. Scholar (Biochemistry)
• Mr. A. Kavinkumar – III B.Sc. Chemistry (Student)
• Ms. A.S. Samreen Fathima – III B.Com. A (Student)
• Ms. R. Geethanjali – III B.Sc. Mathematics A (Student)
• Mr. P. Sahaya Aldon – III B.A. English (Student)
• Mr. M. Sulthan Aarif – II M.Sc. Microbiology (Student)
• Ms. K. Pragathi – II M.Sc. Computer Science (Student)